A viral video showing a bride's brothers serving as her "flower boys" at her wedding delighted guests and viewers alike.
Jessica Wallace shared the video to her TikTok account @onlyonejesss, where it was viewed 12 million times. In the video, Lavaughn and Matthew Harvey, danced their way down the aisle while they tossed flower petals.
The heartwarming clip gave viewers an insight into how couples can include family and loved ones on their special day.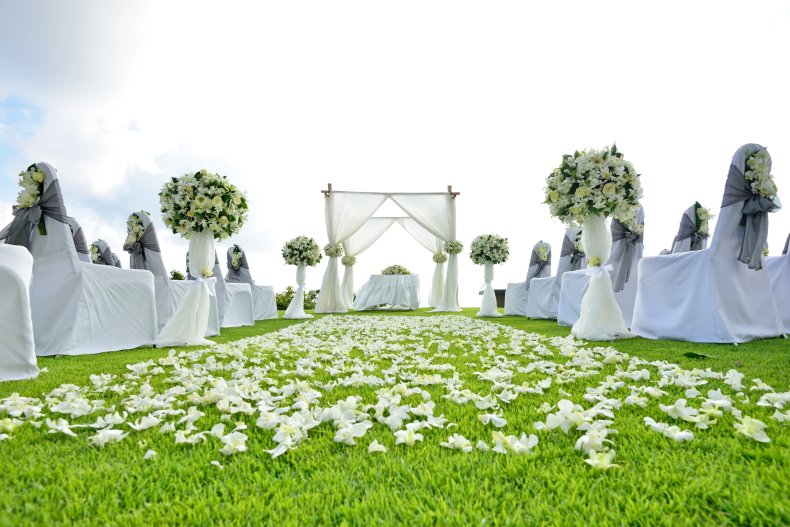 While not every family member may have a role in the wedding party, couples can find roles to give them for the wedding.
According to an article published by The Knot, a couple can ask them to welcome guests, pass out favors or give them a special role for the ceremony.
"Ask them to recite a poem, say a reading, hold the chuppah, light candles or show off their musical chops with a vocal or instrumental performance," the piece read.
They can also help celebrate heritage by walking down the aisle with a banner, flag or other symbols of culture.
Or…"flower boys".
'Definitely Stole The Show'
In the now-viral video, the two brothers––one in a green blazer with a grey shirt and slacks, the other in a beige suit and salmon-colored shirt––stood together at the beginning of the aisle as "Leave the Door Open" by Anderson .Paak, Bruno Mars and Silk Sonic began to play before they began their trip down the aisle.
Reaching into customized fanny packs with "Flower Bro" emblazoned across the front, the two danced down the aisle while tossing handfuls of flower petals.
They smiled as wedding guests cheered them on while filming their performance.
"How did they do?" Wallace asked viewers in her video caption.
She told Newsweek in an email that she was going back and forth on how she can include her brothers. At first, she considered walking halfway down the aisle with them or having a brother-sister dance, but the ideas were not quite right.
If they were groomsmen, the numbers of the wedding party would have been uneven, and Wallace said she also wanted them sitting in the front row.
"My friend told me about flower bros becoming a thing and my (then) fiancé and I knew they would kill it, and they did," Wallace said.
She said she and her now-husband told her brothers to have fun with it. Their natural personalities shone through, and Wallace said they did not need coaching or practice for their role.
"The guests ate my brothers up! I remember being behind the curtain and thinking 'what the heck are they doing out there,' because I couldn't see," Wallace recalled. "My brothers definitely stole the show, but I was happy they could have that moment and be such a hot topic at our wedding!"
Commenters overwhelmingly voiced their appreciation for the effort and commitment Wallace's brothers put into their role as flower boys.
'Can They Be Hired?'
"By any chance can they be hired for other weddings to be flower men? They could make a killing," a viewer wrote.
"Look how happy they made the guests! I think they've started a new wedding trend," another comment read.
Wallace replied and said she's seen other weddings that featured flower men, but her brothers put their own spin on it.
"Def a great way to break the seriousness of a wedding and being good vibes," she wrote.
"That's a creative way to have them involved," one viewer commented.
Wallace said that couples planning their own wedding should feel free to be as traditional or non-traditional as they want and to have fun with it.
"There will always be naysayers, but this is your day and (hopefully) you only do it once," she said.
Other wedding content has been captured and shared in now-viral posts, including a video showing a couple's secret handshake they did at the altar.
Another video featured a cake that a baker made while on a time crunch after forgetting to get started on it sooner.
One video featured the hilarious speech a bridesmaid gave for her sister and new brother-in-law.