A petition to save the life of a Kurdish rapper who could face the death penalty in Iran has been signed by thousands of people in just a matter of days.
Saman Yasin, 27, was arrested in early October for supporting the protests over the death of a Kurdish woman, Mahsa Amini.
The 22-year-old died after she was taken into custody on September 16 by the local "morality police," who accused her of wearing an "improper" form of hijab in Tehran.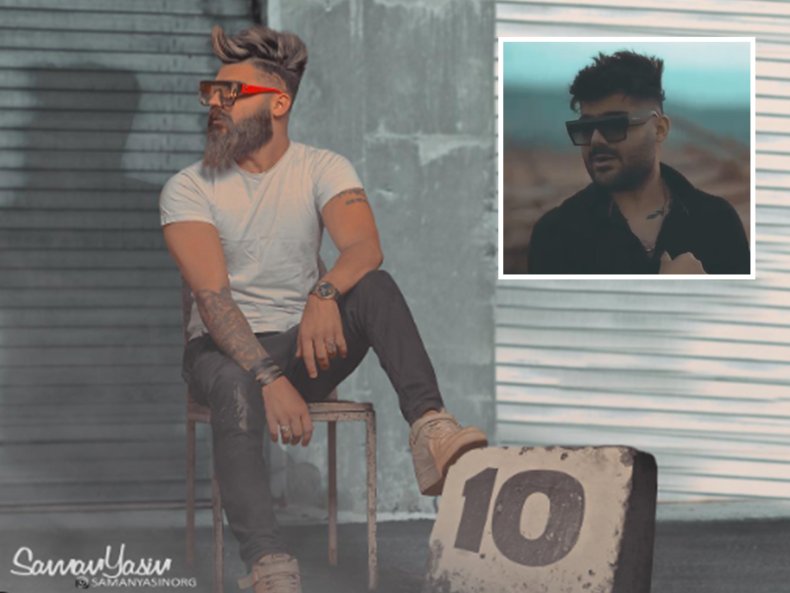 They allegedly beat her while in custody and the injuries she sustained from the assault are believed to have caused her death.
Protests have since raged in Iran, with many women removing the mandatory head veils and they have been joined by men in calling for an end to Iran's Islamic government.
Yasin was arrested in his home on October 2 on the charge of waging "a war against God."
Iran's penal code prohibits acts of "rebellion," including aiding and abetting anything that "causes severe disruption in the public order of the state and insecurity."
Any person found guilty of doing so will be considered "corrupt on earth" and sentenced to death.
A contact close to Yasin's family said they had not been able to speak with him since October 17, when he was able to tell them he was being held in Tehran's notorious Evin prison, which is known for housing political prisoners.
No Access to a Lawyer
"The family has hired a lawyer for his case, but the lawyer has not yet been able to see Saman meet with his case," the source confirmed.
The musician who also raps about inequality, oppression and unemployment was allegedly tortured physically and mentally while awaiting his trial, according to Kurdish human rights group Hengaw.
Yasin held his head in his hands when the judge read out the charges against him and the potential execution sentence he could receive if found guilty. No further details on when he may go on trial have been given by the authorities.
He didn't have his lawyers or any family present at the October 29 trial at the 15th branch of Islamic Revolutionary Court.
Yasin's supporters have described his situation as "terrible" and accused the court of not giving him the due process of law.
"One person acts as judge, jury, and prosecutor in cases; the accused do not have the opportunity to use lawyers," reads a Change.org petition started to save Yasin.
"Trials last about 10-15 minutes on average and are broadcast on state television."
Targeting Artists and Musicians
It also described how people were risking their lives to "fight for freedom, human rights and democracy" and accused the government of targeting artists and musicians in its attempts to quash the unrest.
Kurdish journalist Kaveh Ghoreishi agreed and pointed out that Yasin's arrest happened at the same time as authorities arrested another rapper, Tomaj Salehi.
"It seems that the Iranian government is worried about the influence of artists, especially protest music artists," he told Newsweek.
Ghoreishi also asserted that the rapper's Kurdish identity and his proximity to the outlawed religion of Yarsan was the reason for the government's "focus" on the case.
Yasin hails from the Kurdish province of Kermanshah and performs his poetry and music in the local Kalhori dialect.
"It is home to a large proportion of Shia Kurds and Kurds who follow non-Islamic religions such as Yarsan," the journalist explained.
Ghoreishi has accused the Iranian government of trying to "create a gap between them and the rest of the Kurds in provinces such as Kurdistan" by highlighting their differences in religion — the majority of Kurds are Sunni Muslims.
"During the last 100 years, Iranian nationalism has tried hard to dilute the Kurdish identity of the people of Kermanshah and assimilate them into the Iranian, Persian Shia national identity," he said.
Just days after Yasin was sentenced to death, Iranian lawmakers called for strict punishments for arrested protesters.
An open letter signed by 227 members of the Iranian parliament asked for stricter penalties to "serve as a good lesson in the shortest possible time."
"Now, the public, even protesters who are not supportive of riots, demand from the judiciary and security institutions to deal with the few people who have caused disturbances in a firm, deterrent, and legal manner," said Iranian government spokesman Masoud Setayeshi.
Then on Tuesday, the Iranian parliament overwhelmingly voted in favor of introducing the death penalty for protesters.
A decisive 227 out of 290 MPs voted to impose the death penalty as a "hard lesson" for those participating in the country's uprising.
Authorities have arrested around 15,000 people in connection to the protests and killed 300, according to Carnegie Endowment fellow Karim Sadjadpour.
He tweeted on Tuesday: "In the last 8 weeks Iran's regime has killed over 300 protestors, imprisoned nearly 15,000, and threatened to execute hundreds more, yet Iran's women persist."
But Ghoreishi insisted the harsh crackdown on protesters and prominent artists such as Yasin and Salehi will have the opposite of the government's intended affect.
"Arresting artists like Saman makes them a hero and role model. The arrest of Saman Yasin only ends with the reproduction of other Samans," he said.
Female protesters have continued to not only remove their hijabs, but they have also been burning them and cutting their hair in public in acts of defiance against the Ayatollah Ali Khamenei-led Islamic Republic nation.
The Kurdish slogan: "Women, life, liberty" has become the war chant of the demonstrators since protests began.
Newsweek contacted the Iranian government for comment.